Hallo GIVers of Giveth and the Gardners of GIVgarden!
Please note that due to limit of the amount of links a new poster can use on this forum, links shared will require copy and pasting.
PizzaDAO and NFTP: Rainbow Rolls are coming together to throw a Public Goods Pizza Party for the People @ EthDenver!
https://twitter.com/Pizza_DAO
https://twitter.com/rainbow_rolls
We are reaching out to other Public Goods based organizations within the web3 space to partner with PizzaDAO for this event.
Name: Public Goods Pizza Party
Location: International Church of Cannabis (400 S Logan St, Denver, CO 80209)
Capacity: 200
Date: Tuesday, February 15th
Time: 6:00pm MT - 9:00pm MT
The venue is the super sweet International Church of Cannabis, located just down the road from the EthDenver main venue.
Please check out this slidedeck to get a taste of whats in store for the event: https://docs.google.com/presentation/d/1hlNHzwRj8QZ1r1r0n6WRyFz-AN73pGkbgU73UquKN60/
We are putting together an NFT Gallery and Auction presented by Superchief, feeding free Pizza and Refreshments to the people, and will feature an interactive augmented reality booth.
We can feature Giveth related NFTs / content in the gallery.
Please find our sponsorship menu below. At time of this posting the corresponding amounts of GIV are as follows:
2 ETH == 9415 GIV
5 ETH == 23538 GIV
10 ETH == 47077 GIV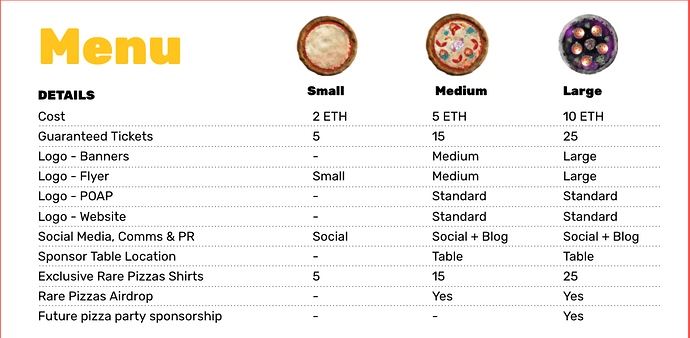 Proposal description: Funding Request for EthDenver Public Goods Pizza Party
Proposal Rationale:
PizzaDAO and Rainbow Rolls are looking to partner with other reputable Public Goods DAOs within the space to promote each other's causes and vibe together and create more awareness surrounding the Public Goods sector in web3/
Expected duration or delivery date (if applicable):
ASAP, event rapidly approaching
Team Information (For Funding Proposals)
PizzaDAO: https://twitter.com/pizza_dao
RainbowRolls
Skills and previous experience in related or similar work:
PizzaDAO has thrown the BIGGEST PIZZA PARTY IN THE WORLD! See slide deck linked above.
Funding Information (For Funding Proposals)
Amount of GIV requested:
2 ETH == 9415 GIV
5 ETH == 23538 GIV
10 ETH == 47077 GIV
Ethereum address where funds shall be transferred:
0xBdAF85b594C7Cb802ECBBcF0C64e0959b6Cf3629
MAIN NET GNOSIS SAFE of Rainbow Rolls
More detailed description of how funds will be handled and used:
Venue
Venue staff
A/V tech,
NFT displays
Display installation materials/hardware,
Installation labor
Pizza
Beverages (alcohol requires hiring a catering company with permit to facilitate)
Event signage, promo/marketing materials