Proposal Information
Proposal description:
Giveth and the LTF ReFi Bootcamp.
The proposal is to bring on Giveth as a Gold Sponsor and embark on a public goods project with aims to illuminate regenerative solutions at scale through token technology.
Think less "bootcamp" and more "guided learning journey with a passionate, friendly group of mentors" (the latter just doesn't roll off the tongue as easily).
The Token Engineering ReFi (Regenerative Finance) Bootcamp is a free 8 week education course that Longtail Financial is launching this summer. The course follows an open source curriculum and culminates in case studies, applied research, and capstone projects. The program will cover 5 educational streams of data science, software engineering, mathematics, scientific writing, and community building. Alumni of this program will graduate with an enhanced knowledge in Token Engineering and can apply what they have learned in the ReFi ecosystem.
Proposal Rationale
What does being a gold sponsor mean exactly?
Two seats reserved in the bootcamp for Giveth internal talent
Ability to submit up to 3 project proposals for students to complete during capstone phase
Ability to advise on and contribute to program curriculum
Dedicated sponsor spotlight post on LTF social media (Twitter, Facebook, LinkedIn); approximately 50 words.
Inclusion in official sponsor line-up posted in bootcamp Medium article
Continuous partnership integration opportunities with LTF and future iterations of the ReFi bootcamp
The bootcamp was created to produce an onboarding funnel of Token Engineering talent into the ReFi industry, an open source knowledge base of TE applied to this movement, and to allow LTF to share its engineering process and culture with the world.
This bootcamp is the first of many to come, LTF + Giveth is a recipe for eternal abundance.
Expected duration or delivery date:
The program has an intended start date for the 6th of July and has a duration of 8 weeks.
Team Information (For Funding Proposals)
Longtail Financial is the organization launching this proposal (ReFi Bootcamp), and hence its host. LTF has been involved in Tokenomics design and research & simulations, working with different clients to find the best solutions. We believe our expertise makes us a suitable organization for hosting a program that educates fresh minds about the world of ReFi Token Engineering. LTF will be selecting some of its talented staff as mentors and each mentor will be providing guidance for the program participants. Every mentor is gifted in a different field, making the mentors a well rounded team.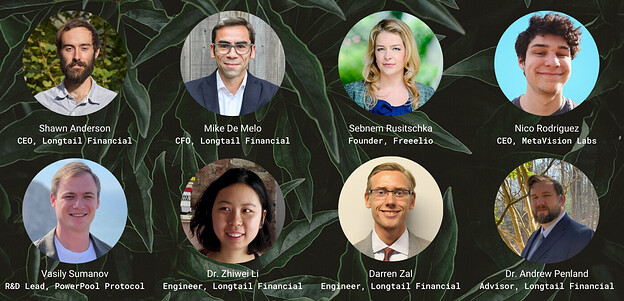 https://www.longtail.financial/
https://medium.com/longtail-financial
https://twitter.com/LongTailFinTech
Funding Information (For Funding Proposals)
Amount of GIV requested: 100k USD in GIV
Ethereum address where funds shall be transferred:
longtail.eth
0x8C6e8021de64150BF374640Eaf7732542D93aEb8
More detailed description of how funds will be handled and used:
We are using the proposal inverter for this project for more details on this follow this link: