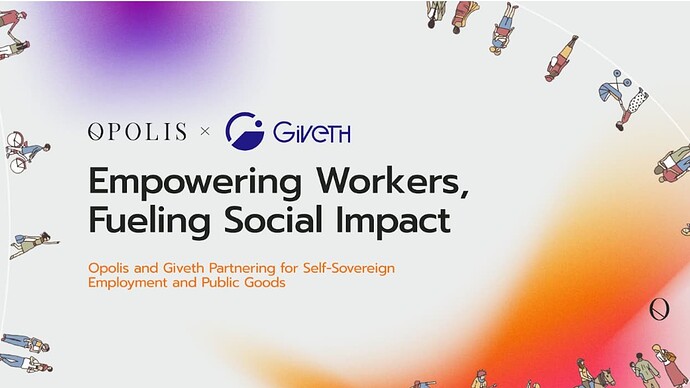 Opolis & Giveth Partnership: RFC
Giveth and Opolis have collaboratively drafted this joint proposal to provide Giveth contributors with the option to access employment and compensation services through Opolis. This proposal is particularly relevant for our community members that work in or have citizenship in the US and Canada who work independently and need services such as medical benefits, W2s, tax compliance assistance, and paystubs.
Voting in favor of this proposal will allow contributors to voluntarily opt-in to Opolis services, which are optional and not obligatory. For more information, please continue reading for additional details!
About Opolis
Opolis is a digital employment cooperative aiming to democratize employment by helping workers achieve self-sovereignty and a life of choice, thereby eradicating the necessity for a singular entity to provide employer services. Opolis allows people the opportunity to work on multiple projects and keep their benefits intact.
Opolis has developed the technological and legal framework for the self-sovereign worker, with the concept of Decentralized Employment Organizations (DEOs) that foster sustainable mutuality between employers (service consumers) and employees (service providers).
Opolis does this by offering individuals:
Crypto-friendly payroll
Paystubs & W2s
Access to medical, dental, vision, & retirement plans
Tax compliance assistance
Payroll mining & $WORK token distribution for members
Employer of record
Opolis was established with the vision that the future of work is evolving into a dynamic landscape, and traditional HR tech systems are not equipped to thrive in this new reality. This presents an opportunity for individuals and organizations to not just survive, but thrive in a decentralized paradigm.
How it Works: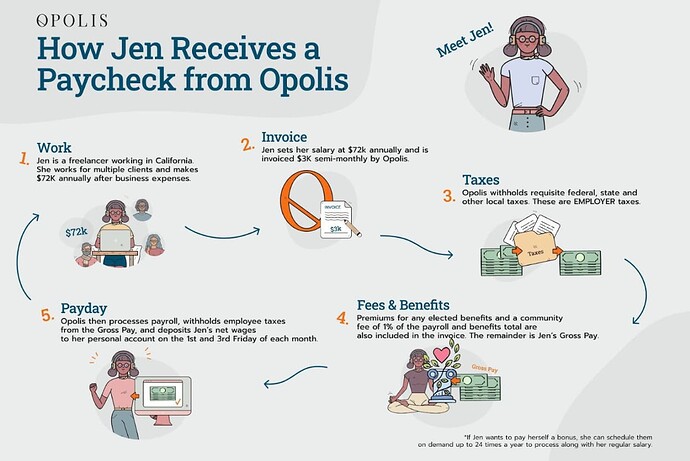 Who Qualifies?
Additional Resources
Opolis Benefits (Medical, dental, vision, and other coverage information)
Why this Proposal?
At Giveth, we wish to offer our contributors optionality and access to quality employer services. By leveraging Opolis' services, Giveth aims to attract and retain high-quality contributors as it continues to grow, ensuring their compensation and employment needs are met in a compliant and efficient manner.
Motivation
Giveth is a DAO with no legal entity and Giveth contributors are currently being compensated directly from the DAO. Giveth looks to find alternate ways for current and future contributors to be compensated in a way that is compliant with their local regulations.
Giveth's proposal is to utilize a third-party service provider (Opolis) that acts as a blockchain-to-real-world bridge between Giveth to specific country and state.
To attract and maintain high-quality contributors as Giveth grows, and the need of ensuring contributors to be compensated in a compliant way, have access to statutory benefits and health insurance, and income verification, etc. has led Giveth team to look into a full-service employment, compensation and tax solutions provided by Opolis.
Cost Outline
The Opolis fee structure includes:
1% of the individual's annual income will go towards the Opolis admin fee.

Example; if a contributor reports $50,000 annually on their Opolis Dashboard, then the contributor will pay a $500 Opolis fee. (Update with frequency of payment)

If the enrollee has no LLC, there is a one time $299 LLC setup fee. If you need to set up a legal entity, start here: Opolis WYO LLC / S-Corp Creator
Implementation Framework
As part of onboarding, individual contributors will share the information required for Opolis services, including kyc and other qualifying information (required for benefits and tax purposes). For Giveth, Implementation Facilitators will be Heather, Freshelle and Rachel. Rachel will be a point of contact for Opolis, here to respond to forum inquiries, and membership success stewards David or Jeremy will reach out with next steps!
All communications during onboarding and post-onboarding will happen via email.
If this is something that interests you, we recommend filling out the form as the most streamlined way to expedite onboarding: https://connect.opolis.co/giveth/
Contributor Reimbursement
Should Giveth provide offer subsidies for contributors who utilize this service? Let's discuss in the forum!
Moving Forward
We invite the community to share their thoughts on this proposal in the coming days. If there are no major objections or changes, the proposal will be put to a Aragon vote. Giveth contributors are strongly encouraged to provide feedback to ensure the best possible outcome for our community.
Note that voting in favor of this proposal, and subject to its passing, will allow contributors to voluntarily opt in to Opolis services. It is an optional service that contributors can choose to use but are not required to.
Your input is valuable and appreciated!
Should eligible contributors be allowed to voluntarily opt-in to Opolis services?
No, let's debate in the forum
Yes!