Hey everyone!
The results from the Giveth Optimism Round (October 9-23, 2023) are IN! As part of our "Optimistic Onboarding" initiative, only donations on Optimism Network would qualify for matching. This resulted in the onboarding of 48 new verified public goods projects!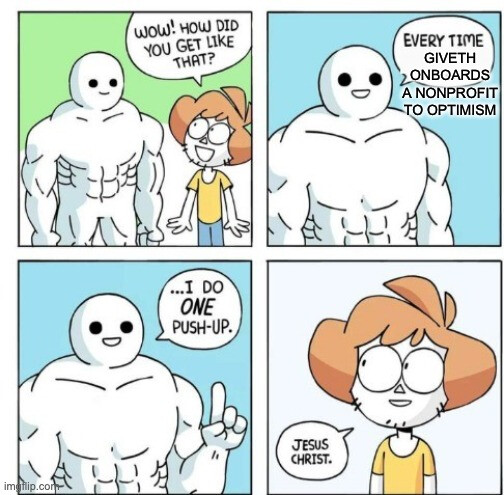 First off, we want to give a major praise to everyone - projects & donors - who participated in the round. This round was a huge success, raising over $23,000 for verified projects on Giveth, in addition to the $25,000 matching pool. Thank you!!

Quick Summary
25,000 DAI Matching funds on Optimism Network, made available by our Quadratic Force
$23,306 of additional donations from the community
125 verified projects
388 unique donors
1277 eligible donations
1728 total donations
247 ineligible donations were disqualified from matching thanks to Gitcoin Passport
45 additional sybil addresses were identified thanks to Trustalabs
The final donation amounts to each project, amounts raised & matching funds are summarized here:
Note, to avoid having such a long tail, we decided to bump up the lowest matching projects to a minimum of 1 DAI.
Sybil Analysis Breakdown
Only donations from addresses with a Gitcoin passport score of 5 more were considered eligible for matching. This made 247 of the initial 1728 donations "ineligible". The remaining donation list was analyzed by Trustalabs who flagged 45 possible sybil addresses. We then manually investigated those donations through block explorers, our own databases, spreadsheets & other on-chain tools, and concluded that they were all, in fact, sybil and therefore ineligible for matching.
Donations from verified project recipient addresses (the "purple list") to projects in the Optimism round were also flagged and considered ineligible to encourage projects to use raised funds to meet their stated goals - and not recirculate them on the platform.
Any ineligible donations were not included in the matching amount calculations.
Feedback
This forum post will be up for 2 business days to leave time for community feedback on the results. Barring any issues in that time, we'll set up the transaction to send the matching funds out to the project addresses listed in the spreadsheet above.
If you have any feedback on the matching results please leave a comment on this forum post. And if you have any additional feedback on the round, please fill out this typeform.
Praise!
None of this would have been possible without the support of our community. I'd like to praise @cquinterom096 @renjer and @Griff for their amazing support in getting this data reviewed & matching funds determined, and @mitch (in advance) for helping get the funds sent out to verified projects. I'd like to praise @WhyldWanderer & @NikolaCreatrix who worked so hard reviewing and verifying projects, @OyeAlmond @Stee @missgene for major outreach and communication efforts, as well as @moenick @msaeedi @ramin @alireza7612 @cherik @maryam.jafarymehr for developments, bug fixes & QA, and really, the entire Giveth team for working tirelessly to make our Optimism round such a success.
Finally, major gratitude to Trustalabs whose diligent data analysis efforts and commitment to quality has helped us protect our rounds and ensure true democratic distribution of funds!
---
Please help us improve Giveth QF. Fill out this feedback form or leave a comment below with your thoughts.