Getting the party started on revamping our Reward Process!
In our meeting on Sept 6 we reviewed the 3 ways that Contributors are currently rewarded - it's a mash up of different payment pathways established at different times for different purposes. Summary is pasted in below this link to a Discord discussion that arose in the #Governance channel on Sept 7: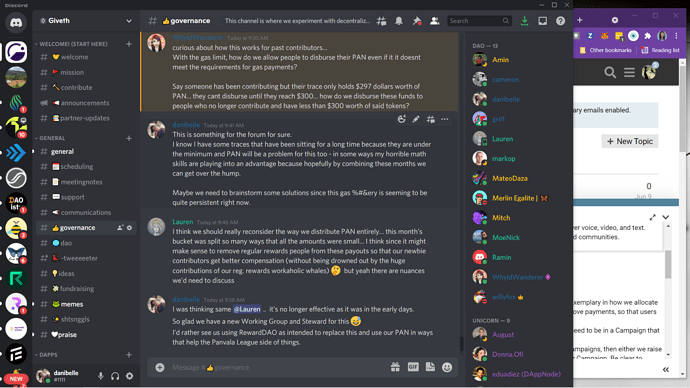 Contributor Payment Process:
Regular Rewards - work agreements

We as Givethers have a responsibility to be exemplary in how we allocate Giveth funds to Circles/Campaigns and approve payments, so that users can model off our process and procedures.
Best case scenario, funds for Reg Rewards need to be in a Campaign that is intended for paying Reg Rewards.

IF we do not have the funds in the right Campaigns, then either we raise it, or vote to reallocate funds from another Campaign. Be clear to reference.

When we move to the GIVDAO, will we create Budgets for Circles and submit them for approval by the DAO and allow Circles to distribute via proposals from working groups.

RR contributors paid by their circle - Circles are currently Campaigns. Campaigns have Campaign Managers (de facto circle steward).
Also have opportunity to go after bounties, take on tasks in other places for alt rewards like PAN or RewardDAO.
Governance WG will help people/other WG's make proposals to the DAO for voting on allocation.

See Colony - payment proposals via workstreams/mini-communities.

PAN Payouts

System was created to distribute funds from GitCoin Grants, when we only had one grant - to build Giveth 2. We now have a Giveth Trace Grant as well, and with ETH's rising value our coffers have increased in ETH while our PAN has been diminishing. Monthly PAN rewards are now mostly below the $300 value floor set to minimize Giveth's gas expenditures and non-RR contributors are not receiving an amount that they can take out of TRACE.
Has been solely based on SourceCred - which is designed to continue rewarding contributors whose work is like art, the value holds or even goes up over time.

Distinct roles in GitHub / Dev for pull requests, approving and merging etc… these are tasks that affect Cred, but we don't have KPI's for how well we are doing that, quality vs. quantity
How do we raise issues with SourceCred etc. ? Trace Dev team is not very satisfied. ID's change, RR flags need to be checked monthly!

RewardDAO

Created to value community contributors who either do not get Reg Rewards or do something above and beyond the scope of their RR agreement.
Monthly distributions based on Praise for one off and single month contributions only.
Praising yourself for accomplishing something above and beyond - one time deals.
I propose the following steps:
1.) EVERYONE: Review the information shared in this post and comment with your opinions, feelings and suggestions.
2.) Governance Working Group: Meet to review the feedback and develop a proposal for how to create a new tiered Contributor Reward process that meets the core needs of Giveth, supporting the Vision and Mission, and mapping it to how it addresses the goals of the Governance Circle>
3.) Gov WG Steward (or delegate): Present the Proposal to the Community for feedback (maybe a public poll) and revise as needed.
4.) Gov WG Steward (or delegate): Create a Vote for the rGIV DAO.
5.) Rinse and Repeat as necessary.