Hey team! wow Devcon was awesome wasn't it? So was the DAOist, Schelling Point, ETH LATAM, ETH Bogotá and Sustainable Blockchain Summit! One hell of a ride in Colombia.
Many, many incredible highlights and value created for Giveth, of which we will see the fruits hopefully in the coming weeks.
A few of us Givethers came to Colombia and rented a house specifically to attend the myriad of conferences. This was myself (@mitch), @OyeAlmond , @Cotabe and @hanners717. I would like to kindly ask for reimbursement for the cost of accommodation for our stay in Bogotá.
Accommodations for 15 nights in Bogotá - 1221.61 CAD = $887.14 USD
80% reimbursement for full-time contributors = $709.712 USD in GIV from the nrGIV
Pay to Mitch
0x826976d7C600d45FB8287CA1d7c76FC8eb732030
I understand that none of our activities were official sponsorships - to that end we are not asking for reimbursement for travel costs nor event ticket costs.
Here's my receipt: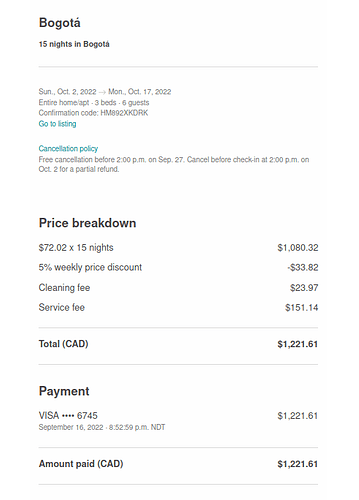 Do you agree with this reimbursement request?