TL;DR
Allow Solana users to connect to giveth.io with their favourite Solana Wallet
Giveth users can create or update their public goods project on Giveth with a Solana address to receive donations on Solana
Giveth users can make donations on Solana to projects that have registered a Solana address.
Giveth will receive $22.5k USD equivalent in stables from Solana Foundation to build this.
Motivation
Giveth is a fundraising platform for public goods. We facilitate p2p, zero added fee donations in the crypto ecosystem for funding non-profits and public goods projects worldwide. We've been around since 2016 and we're proud to run the best donation platform ever.
Primarily Giveth has operated on EVM compatible networks but this will soon no longer be the case! In partnership with the Solana Foundation we will foray into the broader web3 ecosystem and build our first ever non-EVM integration. We believe the Solana Foundation is a value-aligned crew and together we can bring public goods funding mechanisms to the Solana network. Solana as a blockchain is a great fit for Giveth for its fast & cheap transactions as well as its exceptional reputation as one of the leading blockchains.
What do we want to do?
Giveth would like to build a straightforward Solana integration into our giveth.io dApp. We want to enable existing users to add a Solana address to their profile and new users to sign into Giveth using a Solana wallet.
We also want projects on Giveth to be able to register a Solana address to receive donations and allow donors to make donations to these projects using SOL and SPL tokens.
Due to the complexity of the Giveth smart contract system we will not issue GIVbacks on Solana nor register Solana donations as GIVbacks eligible for the scope of this proposal.
Milestones
We estimate this integration will take around 4 months to complete once begun. This will be due to the complexity of registering & verifying ownership of Solana addresses for existing users. Our development team will also need time to research the packages, libraries and development standards of the Solana blockchain.
We are set to receive $22.5k USD equivalent from the Solana Foundation in funding to cover development costs. We have agreed that funding is distributed in the following manner:
$5k USD equivalent upon proposal approval.
$12.5k USD equivalent upon completion.
$5k USD equivalent when 10 unique Solana projects (Web3 projects native to Solana) have received donations on Solana.
Funding Address
6U29tmuvaGsTQqamf9Vt4o15JHTNq5RdJxoRW6NJxRdx
Completion Metrics
We consider this proposal as complete according to the following requirements:
Users can connect to the giveth.io dApp with a Solana wallet & create a profile
Users can add & verify ownership of a Solana wallet to their existing Giveth profile
Donors can make donations to a project that has registered a Solana address with SOL and top SLP tokens according to market cap.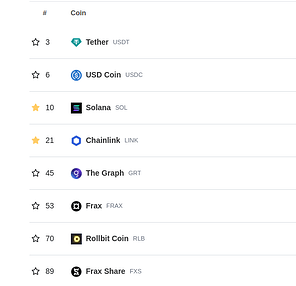 Projects can register a Solana address to receive donations on.