Today in the Governance Call, we spoke about the status of the Trusted Seed project.
The verification team has come to the conclusion that we think this project should not be eligible for the GIVbacks program. This project is used for members of the Trusted Seed to pay membership dues and therefore receive benefits from being a member of the Trusted Seed. The Trusted Seed provides a public good and we would love to support them in receiving donations to continue doing good work and that these types of donations can be eligible for GIVbacks. However, we have come to the agreement that we, as a verification team, do not feel ethically right giving GIVbacks for the paying of membership dues to be part of an excludable club.
Notes from the Governance Call today -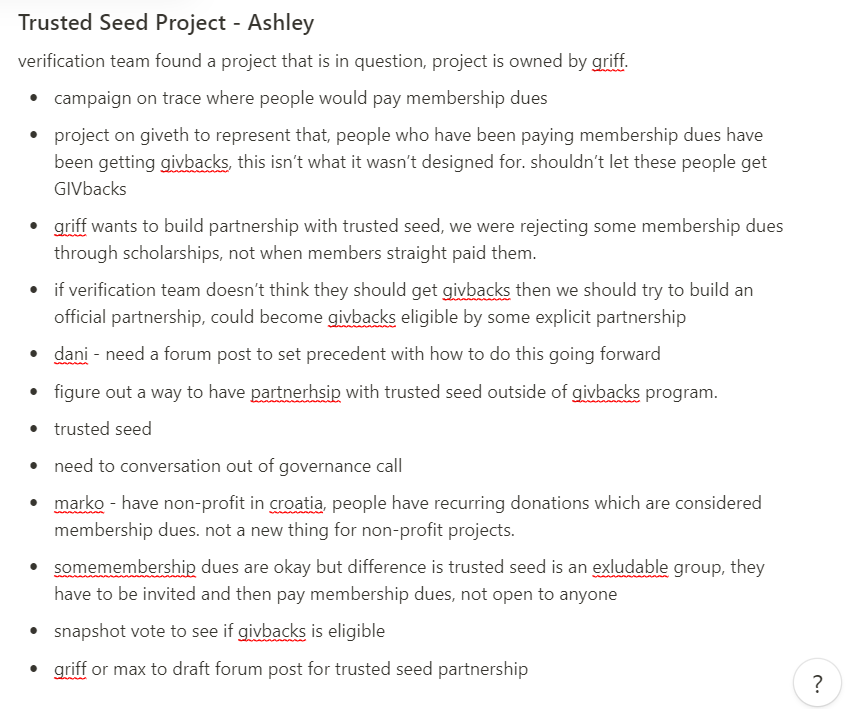 Points taken from the discussion:
We would like to continue to have a strong partnership with the Trusted Seed.
If the Trusted Seed project was removed from the GIVbacks program, how could we establish a partnership agreement with them outside of the GIVbacks program and what would that entail?
First things first
We need to clear up the current eligibility - the verification team thinks that this project should not be GIVbacks eligible but we want to make sure that our community is in agreeance with this decision.
It would be the first project that we have removed from the program.
Please refer to the docs for GIVbacks program disqualifying measures.
Find the Trusted Seed project here.
Find documentation from the Trusted Seed about membership benefits here. One of the benefits stated is "You will automatically earn $GIV tokens when you renew your membership."
Should the Trusted Seed members receive GIVbacks for paying membership dues?