Summary
Create a Public Goods Pool on Balancer with (up to 8) consonant DAOs:
· Giveth (GIV)
· Balancer (BAL)
· Radicle (RAD)
· BrightID (BRIGHT)
· DappNode (NODE)
· 1Hive (HNY)
· ShapeShift (FOX)
· Optimism (OP)
· Ethereum Naming Service (ENS)
· Gnosis (GNO)
· Aragon (ANT)
· Opolis (WORK)
· Bankless (BANK)
· Others? (please leave a comment)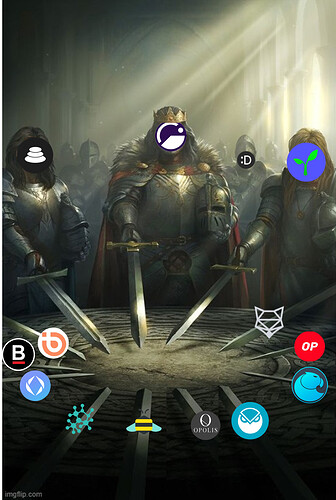 Proposal Description
Several public good DAOs have expressed interest in participating in a shared liquidity pool on Balancer. Details of pool weights and participants are fluid, but with support of this proposal, Giveth will begin reaching out to potential partners to solidify this idea.
Background
Founder of Block.Science & cadcad.org, mZ (@mZargham) proposed the idea for an ESG (Environmental, Social, & Governance) Balancer Pool shortly after the launch of the GIVeconomy. In fact, this idea may have been incubating since as far back as 2018: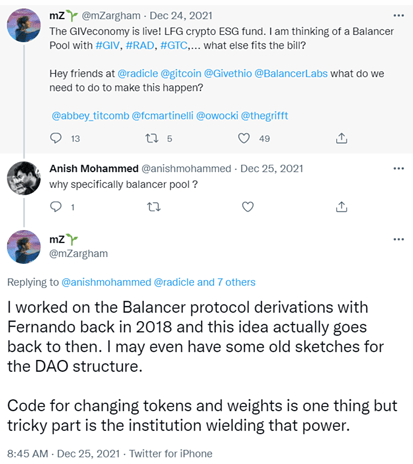 Proposal Rationale
DAO-2-DAO token swaps are an excellent way to align like-minded DAOs while simultaneously generating sustainable liquidity. While 1-to-1 token swaps are a powerful tool, Balancers extension of the x*y=k model allows for up to 8 tokens in a single pool.
As Kirill Naumov notes in his article Back to the Basics, Balancer "can also be thought of as an index protocol, where the token weightings are set to specific percentages of a pool and arbitrageurs ensure that weighting is maintained". Many of the leading Gnosis DAOs participated in the successful deployment of the novel index token, $WATER. This proposed Public Good Pool will be an extension of that idea, fostering alignment of those DAOs focused on fostering public good growth on the blockchain.
Additional Information: Potential Participants
Partnerships through $WATER include:

Opolis may be in a state of high inflation, @chadfi to investigate and include analysis in the comments.
In order to foster new partnerships, preference is to primarily pursue DAOs not involved in $WATER (see below). Those participants will be pursued secondarily.
· Balancer (BAL)
· Radicle (RAD)
· DappNode (NODE)
· Optimism (OP)
· Ethereum Naming Service (ENS)
· Aragon (ANT)
· Bankless (BANK)
· Gnosis (GNO)*
*GnosisDAO has an existing pool with Giveth and should be considered as an existing partner, and pursued secondarily.
@chadfi to investigate Mainnet liquidity and include analysis in the comments (where those with high Mainnet liquidity are preferred partners).
Next Steps
With consensus, the Research team will begin engaging the DAOs listed above (and in the comments) to gauge their interest in participation (including desired position size). Mainnet is preferable but Gnosis Chain may be considered.
One additional partner that could potentially be involved outside of the actual liquidity position is DoinGud. Their participation could perhaps be in the form of an NFT airdrop to each DAO, or to outside participants providing liquidity.
Team Contacts
Pursue Partnerships for Balancer Public Good Pool?
Let's do it!
Not feeling it