Proposal Information
Proposal description:
Giveth participating as sponsors in "Entrando al Espacio Cripto", an educational event happening in Mexico City based in the community around the "Espacio Cripto" podcast.
Proposal Rationale
After the success of Giveth's participation in The DAOist CDMX, there's another opportunity for participating as sponsors in a live event in Mexico City. This is an opportunity to follow up our presence as the Mexican community keeps advancing and engaging in web3.
Expected duration or delivery date (if applicable):
The event would take place on Saturday, May 28th.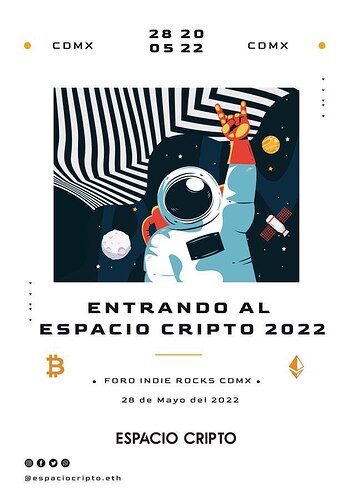 Team Information (For Funding Proposals)
Chuy: Production lead for event.
@abrahamcr: Co-founder of "Espacio Cripto" podcast and content lead for event.
@lalocripto: Co-founder of "Espacio Cripto" podcast and presenter/host of event.
Skills and previous experience in related or similar work:
I lead efforts as head of production for The DAOist Mexico City. @abrahamcr and @lalocripto were also part of the organizing team for the same event.
Funding Information (For Funding Proposals)
Amount of GIV requested:
There are 3 tiers being offered. There is more information in the event pitch deck:
Ethereum address where funds shall be transferred:
espaciocripto.eth