Hey @mendesfabio are there any updates on the progress of Giveth Info?
Hi! I'm Luiza, one of the developers of this project.
First of all, I would like to say that I'm very excited about contributing to the Giveth community! Our goal is to deliver the best we can. Also, I would like to apologize for the radio silence, @mendesfabio was focused on the conference and we weren't able to keep you posted.
The proposed Analytics Tool is currently hosted at https://giveth-info.vercel.app/ according to what was established here prior concerning content and deadline. Please, feel free to give us feedback! Our team is open to doing some minor changes and bug fixing.
João and I would like to share lessons learned and the challenges faced during the development.
1 - The usage of the Giveth GraphQL API to build our post-processed data API wasn't as fluid as expected.
1.1 - We encountered some difficulties regarding documentation and how to get simple data like the project's creation date.
1.2 - Giveth API is not optimized for fetching all the data. When we used time ranges different than 2 weeks or tried to get more than 50 projects the API would time out. We asked to add indexes to the database to improve querying speed but unfortunately didn't notice improvements. Our team had to use strategies like doing multiple requests to get the needed information;
2 - Unfortunately, since the proposal compensation, the crypto market had a major drop, which reduced the value that we expected to receive for this project. As a result, our team had to do other projects simultaneously to compensate financially.
Next Steps:
Work on the community feedback of the current page;
If the result is matching the expectations we would like to integrate it into the Giveth ecosystem and create other proposals for further analysis.
So amazing to see a product! This looks amazing, this data will definitely go far for donor, projects and contributors alike.
I did notice that at the moment you can only query data from all time or a specific 2 week round, it could be useful to allow users to specify more specific ranges, i.e to and from exact dates or across a select range of rounds.
The drop down menu is a bit hard to read. Each round is labelled with a # sign and then a jumble of numbers representing the start date and end date, it might be a bit more readable if you simply said Round 1 - , Round 2 - instead of using the # sign.
Other than that I'm looking forward to what your team has in store next.

This is awesome!! Love being able to see monthly data by hovering over the graphs. The hyperlinks for donors and projects was a fantastic idea too.
It might be interesting to see "Projects Verified" in addition to the existing "Projects Created" display (e.g. of 1559 projects created, X are verified). In this same vein, maybe we show an icon (like a star or the giveth logo or a lightning bolt) next to the name of the project to show it's verified. Alternativley, adding a new column with the header "Verified" then the row has a checkmark or something.
Love to see the lessons learned. Bravo to @luiza and the rest of the Dev team for this!
Appreciate the feedback @mitch and @chadfi !
@mitch exactly, we are using a database that stores every round KPI and caches it so there is a fast response to the user. In the current way that the Giveth API is built, we couldn't select specific ranges without timing out the request. We can think about how to optimize that on your API layer but the best idea might be working on the Giveth API. About the drop-down menu, I'll change and then you can give feedback about it again

@chadfi Nice idea! We can try to implement that too. Which analysis do you want to see with this data being displayed?
Have you reached out to @renjer ? He has the most experience, I think, building our APIs. Perhaps worth looping in @cquinterom096 as well.
@mitch and mendesfabio - I've worked on your feedback regarding the drop-down legibility and the social share preview. Please look at how it looks now, and feel free to reach out to us with any other issues.
Also, I want to take this chance to discuss other two topics we have in mind:
We're wondering if it's possible to get a link to Giveth Info at the Giveth website. That would greatly help us get traction from Giveth users. A suggestion is to do the same way Uniswap does, having an external link button that redirects to the Info website - see picture. If we have support from the community, our team will put together a PR for Giveth's front-end.

Since the price of GIV has dropped, @Griff suggested to mendesfabio to ask for a top-up. We want to acknowledge that, even though the market had a considerable decrease, we met the deadline and held the 30k GIV until now. We had asked for 30k GIV because it was worth $5k, so we are requesting another 61450 GIV to reach the agreement. How should we proceed? Do we have to create another proposal?
That's a great idea!
I think @Tossynee and @MoeNick might be able to push this forward.
Yes, have a look at a previous top-up proposal done by Nazar for the GIVeconomy contract audits.
@luiza I have some questions about the data being shown on the dashboard. its not clear to me.
Is this showing the total donations made to all projects on Giveth.io? or only to verified projects?
Because I am selecting one of the GIVbacks rounds in the date range, it feels like I am only looking at donations that were eligible for the GIVbacks program but I am not sure.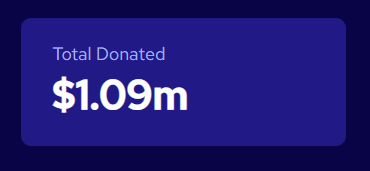 The pitch deck being used by Yass and the tokenomics team has different numbers - I am aware that their numbers also include donations made on TRACE and since the beginning of time. So I am hoping to get some clarification on what data I am looking at here. Thanks!
@mendesfabio I was told to tag you here with a few suggestions I had in mind

Lmk your thoughts!
this might be a small detail but how do you feel about "Giveth Impact" dashboard instead of just "giveth info", i think it matters from a positioning standpoint

would love to see amount of GIV rewards allocated to donors on this dashboard as well as GIVPower slot once it goes live…oh and givestream!

dashboards work by dates and filtering but this one is missing it, so looking at it i'm not sure what timeframe the data represents, is there a way to filter by dates or make it more clearly what dates the data represents?
@WhyldWanderer the dashboard shows the data from Giveth.io (all projects), so we don't include TRACE. Our team will work on returning only the verified projects and make this clear on the interface so the user understands where this data is coming from.
Hey @luiza I think we have data sheets as out-puts of giveback queries each round, so this data may help you make the dashboard data more accurate.
We exclude donations from recipient addresses or other project owners' addresses to avoid circulating money in Platform. ( we call it purple list.)
So in each round, we do manual checking on Givbacks.
I think @cquinterom096 can give you access on Givbacks queries and I think @WhyldWanderer has the history sheets.
I asked @Cotabe to help you on this to QA the accuracy and go live with this fantastic dashboard.
I don't know you are the person who do data or not, hope this help you.
@Also, we have to make sure you used the verified donations @luiza . We have lots of fake donations which we through them away after checking with the network. I heard from @renjer that you are using verified ones. However, I suggest you use the latest information cause it might be changed.
Let me make a list, we have to re-check the data with:
Verified Donations
Verified Projects
Purple List
Manual Audit for Givebacks
Trace Donations (?)
Latest changes on donation data based on Bugs etc.
Hi again


Also, the number of projects should be counted based on their status: we have to make sure to exclude draft and canceled projects.
Hey @mendesfabio & @luiza, first I want to thank you for the great interface. It looks super sweet and I'm very excited about the exposure that key metrics will have both for our team and for external parties.
I think there is plenty of details to sort out from the Top-up of the proposal to the details of data accuracy. I would like to suggest meeting up to make sure we can progress with more clarity.
What do you think @mendesfabio @luiza ?