Proposal Information
Proposal description:
DoinGud, is going open source and launching our protocol. With the protocol, we are building the infrastructure for Decentralized Impact, enabling anyone to participate in the decentralized funding, governance, and validation of impact.
The launch of the protocol will also come with the genesis of the DoinGudDAO. Leading up to the protocol and DAO launch, we are launching a membership program, both at the community and individual level.
For more details see attached deck:
DoinGudDAO Membership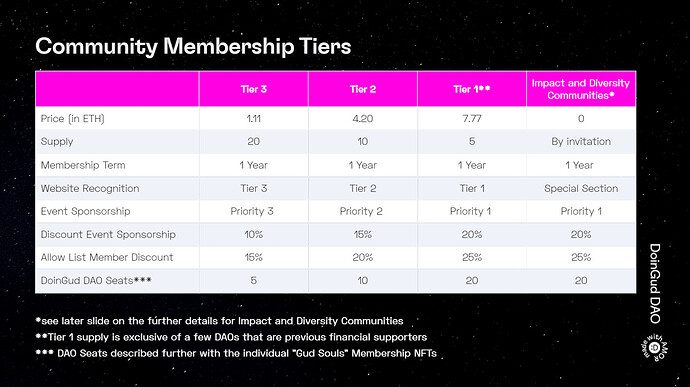 For the community memberships, DoinGud looks to share value through:
Collaboration on future events (priority sponsorship tiers at a discount).
Amplified exposure as a community for good (recognition on website and social media). We will also share resources and create more awareness about what Giveth is building to be amplified across our DoinGud socials.
A dedicated number of seats in the DoinGudDAO
A sizable discount and allow list access for all of the Giveth community members to the DoinGud individual "Gud Souls" membership NFT sale upcoming
Top 3 represented communities in the DoinGudDAO (based on the value of memberships purchased), receive dedicated video content from the DoinGud team.
Proposal Rationale
We have already multiple teams committed to joining this consortium for good (Livepeer, DreamDAO, Gitcoin, Plastiks, Radar, vEmpireDAO, herDAO, Admit One (Gmoney) and more).
We would love to have the Giveth community take part in shaping the DoinGudDAO. Together through proposals, working groups, and community calls, members will guide the cross pollination efforts between mission aligned projects utilizing the protocol.
Expected duration or delivery date (if applicable):
Pending a successful proposal additional next steps would be:
Elect Community Membership Tier (supply limited, first come- first serve)
Sign Community Membership Agreement
Send funds (address to be provided in the agreement link)
Send Ethereum wallet addresses to be included on the Allowlist for the "Gud Soul" Membership NFT Sale
Send the Ethereum wallet addresses of your representatives that will occupy the seats of the DoinGudDAO
Skills and previous experience in related or similar work:
Previously the Giveth community came together to sponsor ETHBarcelona. Thanks to this sponsorship the event was a success and a model for future Ethereum and Blockchain conferences that wish to lead with sustainable practices.
We believe many of us are creating different pieces of the puzzle that will help us solve humanity's problems. Let's collaborate and put our pieces together <3