It came to our attention about a month ago that an anonymous actor has been taking advantage of the GIV/ETH Univ3 Pool on Mainnet. This actor has been using the unique dynamics of Univ3 to precisely allocate a staggering amount of liquidity into a single price position, thus taking almost all of the farming rewards for themselves. This person has been constantly readjusting their position to move into minimum range, ensuring they stay in range as the price of GIV fluctuates. Furthermore this actor simply dumps the GIV they acquire from rewards, hurting the price of GIV and tarnishing the vision of the GIVeconomy.
We've tried fighting back with tokenomics, pushing the GIV price out of their range to keep rewards distributions decentralized but they just keep coming back, this has proven to be an ineffective solution, spending tons of ETH on gas only for the ominous "middle finger" to come back into range.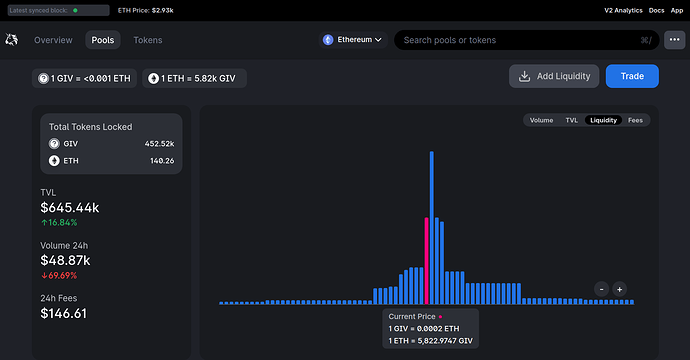 We're proposing to temporarily suspend GIV/ETH Univ3 Rewards and find a solution to this gross centralization of farming rewards. This is not what our intention of the GIVfarm was and Giveth shouldn't idly support this form of gamification of the GIVeconomy.
If you are staking in the Univ3 GIVfarm
Follow this thread - If there are no strong objections to this course you will need to make sure you claim your rewards before the farm is turned off.
Following proper Advice Process on this topic we will advertise a clear shut-off date and create a community vote via Snapshot on whether to proceed or not. We will also reach out via Comms to spread awareness and ensure current Univ3 stakers are given proper notice to take action.